HOLLYWOOD SMILE MAKE OVER WITH PORCELAIN VENEERS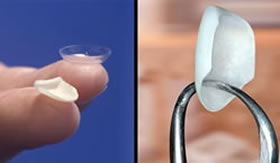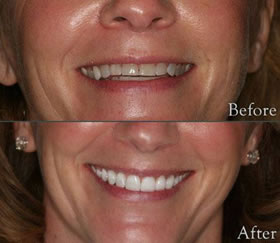 Have you ever caught yourself staring at the perfect smiles seen on TV, in the movies, and in magazines… the smiles of Hollywood actors and actresses, and models? Have you ever wondered, "How did they get that perfect, white smile?

Odds are, those celebrities were not born with pearly white smiles. These smiles were likely designed and created just for them with the help of a cosmetic dentist. The good news? Anyone can enjoy the perfect Hollywood smile, with the assistance of a cosmetic dentist and porcelain veneers.





Porcelain veneers (also referred to as porcelain laminates) are super thin, custom fabricated shells of tooth colored porcelain designed to cover the front surface of teeth to improve your smile's overall aesthetic appearance.

These shells are adhesively bonded to the front of the teeth changing their color, shape, width, and/or length. Versatile and very strong, porcelain veneers are used in a variety of ways to transform your smile, from complete smile makeovers to repairing a chipped tooth.

Porcelain veneers are custom made from a high quality dental porcelain that has similar light reflecting properties as our natural teeth. Porcelain veneers are excellent at resisting stains and they mimic our natural teeth's light reflecting properties. They are the cosmetic dentist's greatest tool for elevating a normal smile to a Hollywood smile.

Porcelain Veneers are regularly used to fix the following issues:

Teeth that are stained or discolored. Teeth can become stained or discolored from root canal treatment, from tetracycline or other drugs, excessive fluoride, or the presence of large resin fillings that have discolored over time
Teeth that are worn down from use or grinding of teeth
Teeth that are broken or chipped
Teeth that are misaligned, uneven, or irregularly shaped. Porcelain veneers are sometimes referred to as "Instant Orthodontics"
Teeth with gaps or spaces between them. Porcelain Veneers are able to cosmetically close those spaces
Making the decision to have porcelain veneers is the first step. The entire process usually takes 3-4 visits, one for a consultation and two to make and apply the porcelain veneers. There is sometimes an added appointment following the consultation where the dentist will show the patient a mock up model.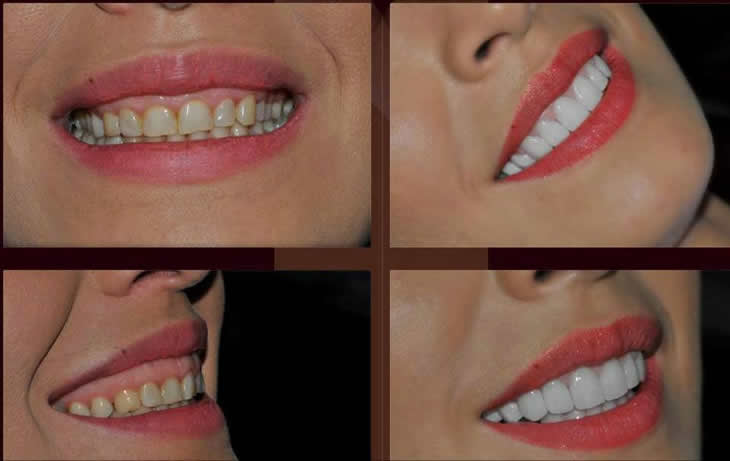 This model will be of your teeth where the dentist has waxed onto those teeth what the porcelain veneers will look like on your smile. It is a great visual reference for you to decide the course of treatment for you. This can also be done via software on a computer. One tooth or many teeth can simultaneously undergo the treatment described in the following paragraphs.